Kurth Tvinnereim - saxophone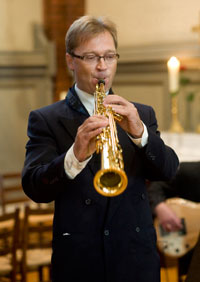 Kurth Tvinnereim attended Berklee College of Music, starting fall -86 as a Sholarship recipient. He studied saxophone with Andy McGhee and Billy Pierce (Art Blakey/Jazz Messengers). He freelanced extensively in the New England Region from around 1990, until moving back to Norway in 2001. This includes playing first chair tenorsax in the Brandeis University Jazz Ensemble for several years, under the direction of Ricky Ford (Duke Ellington/Charles Mingus).
Kurth worked with many of the Greater Boston Area well known live bands at the time, like White Lightning , Ken Clarke Organ Trio (KCOT) and Hip Pocket Orchestra. Continued playing in Norway with the band "Superblue", co-founded togeather with long time friend Arne Kirkhorn Rødvik on keys. Joined Ellayali in fall of 2008, and enjoys the musical challenges presented in this unique blending of western and middle-eastern material, and the great personal rewards in working with such accomplished musicians from all corners of the world.