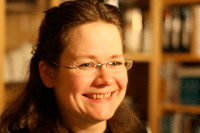 Anna Helgadóttir started playing the cello at the age of nine, after a brief stint as a flutist. She trod her first cellistic steps as a member of Veslefrikk string orchestra at Majorstua skole in Oslo, under the firm and competent rule of Margrethe Rebbestad who was also her first cello teacher.
She became a member of the Junior Orchestra at Barratt Due Institute of Music, and at the age of 15 was accepted in the Chamber Orchestra under the tuiton of Stephan Barrat Due. Anna studied with Bjørn Solum (Principal cellist of the Oslo Philarmonic Orchestra) at the same time.
Her studies at Barrat Dues Institute of Music, and later at the Norwegian Academy of Music, has brought her to a Bachelor of Music. Since then, she has taken continuing education courses in conducting. She has participated in masterclasses by renowned cellists such as Erling Bløngdal Bengtsson, Aage Kvalbein, Geir Tore Larsen, Harro Ruijesanaars and baroque cellist Tormod Dalen. Anna is a versatile musician, she is an avid player of baroque music, and is no stranger to contemporary music.
Anna attended the Händel Academie in Karlsruhe in 2003 where she played for Phoebe Carrai, member of faculty at the University of the Arts, Berlin. She has attended Summer academie of early music in Trossingen. As a member of the Early Music group Vox Antiqua, where she plays the mediaeval fiddle, she gives regular concerts in Norway. Anna played with the early music ensemble Tydorel for many years. She also teaches cello and orchestra in several municipal culture schools in the vicinity of Oslo. Anna has been a member of Ellayali since 2006.