CD release concert - "Music Without Borders"
Thursday 25th of November at 21:00, Cosmopolite (Soria Moria)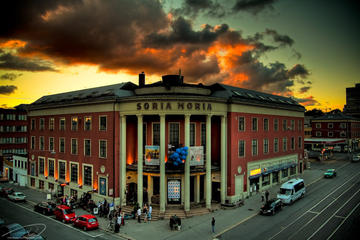 Ellayali builds bridges between people through music. 10 musicians from five different nationalities creates a magic atmosphere with a unique blend of arabic, balkan, latino, norwegian folk, opera and classical music. Listen Mozart mixed with the famous egyptian hit "Habibi Noor al Ain" by Amr Diab, spicy latino rythms from our own Arne Rødvik, beautiful arabic ballads and breathtaking flamenco with Miriam Kleppe and Atilla Vrasdonk. Ellayali welcomes you all to take a part in the celebration of our debut CD, "Music Without Borders".
Featuring guest artists: Audun Reithaug (double bass), Alexander Fernandez (kongas/vocal), Aziz Kossai (oud), Trond Halstein Moe (vocal), Miriam Kleppe (flamenco) and Atilla Vrasdonk (flamenco).